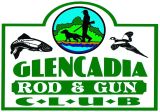 Welcome to Glencadia Rod and Gun Club
Our mission is . . . To serve our members and other persons in the sportsman's community by providing quality hunting & shooting opportunities and safety education at reasonable cost. Promoting interaction, recognizing achievement and serving the area in which we are located.
Please feel free to clink on any of the links.All new information will be on the bulletin board or in it's respective link
See Ya next meeting.





April 5th Member's meeting 7:30